Public square design: ideas and inspirations with SQUARE range
The urban design of the public square is a major challenge. Indeed, in the category of public spaces, the square is a central space that allows all types of gatherings. The urban elements of the SQUARE range make it possible to offer a comfortable, pleasant and even green space in the public square.
A comfortable public square design
The SQUARE range is one of the only ATECH street furniture ranges to offer the most seating options. Indeed, it includes a classic bench, a modular backless bench as well as collective and individual seats to be fixed on a low wall and even an urban chair. But their role is essential. They offer a break to public places users, who often come to gather or to walk around the city. Seats create a social space that encourages exchange and sharing. The SQUARE range responds to this challenge with a number of comfortable seats made of hot-lacquered steel.
An urban design for a pleasant and green square
In addition to seats to enjoy the space, the square must be practical and aesthetically pleasing. This will be achieved first and foremost through urban equipment such as bike racks or tree grates. The elements of the SQUARE range also ensure safety and cleanliness with barriers and litter bins that are either classic or meet the anti-attack requirements. The aesthetics of the range is marked by a particularity: the cutting of circles in the steel. Between these bubbles of freshness, SQUARE also brings nature into the city with its unique flower boxes. In the shape of a ball, a bevelled ball or a half-ball, the plants will come to life in the middle of your public square.
Finally, the range offers square or rectangular urban gardens, i.e. large planters surrounded by seats, to provide a comfortable and pleasant green break.
The products
A bit of design in the city? Choose the bench from the SQUARE range, ideal to boost your environment.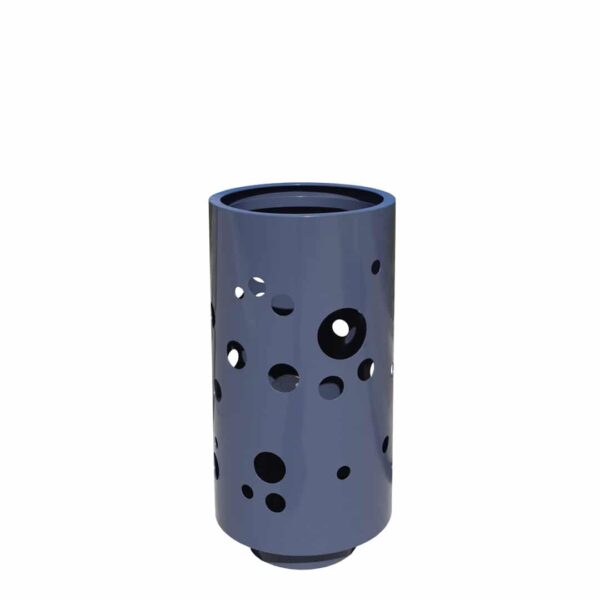 Discover the public bin SQUARE with design laser cuts, in painted steel it is available in many colours.